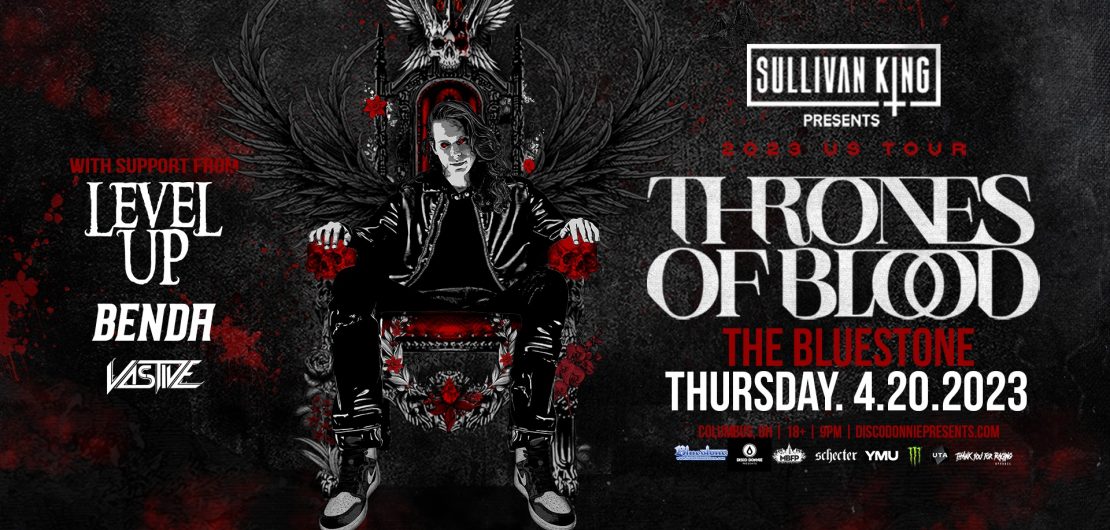 Sullivan King Thrones Of Blood Tour w/ Benda . Level Up . Vastive 4/20/23 The Bluestone
Details
Date: April 20, 2023
Time: 09:00 pm
Venue
Sullivan King Thrones Of Blood Tour w/ Benda . Level Up . Vastive 4/20/23 The Bluestone
583 E Broad St.
Columbus, 43215, Ohio, United States
My Best Friends Party and Disco Donnie presents :
SULLIVAN KING
THRONES OF BLOOD TOUR
4/20 THE BLUESTONE
w/ LEVEL UP
BENDA
VASTIVE
SULLIVAN KING-
The Los Angeles-based multi-instrumentalist/producer and solidified guitar god is setting out to shatter the mold and to disrupt the electronic world-one lick at a time. Lifting the brash and rugged energy of bass music off the dance floors and the power of metal and hard rock from the stadiums, Sullivan King creates a musical mosh pit built entirely on rapid-paced, neck-snapping dubstep, intensely shredding guitars and a bold live show that pushes the boundaries of modern music performance.
Launched in early 2014, the Sullivan King project is the artistic creation of Keaton Prescott, whose musical DNA is composed of one-half metal and one-half bass music.
Like the sword of King Arthur, the guitar beckoned; After discovering the music of Van Halen, via his father, Sully took a headfirst dive deep down the rabbit hole of guitar-based music. He soon discovered the progressive rock sounds of post-hardcore and emo/screamo from the aughts across bands like From First to Last, Chiodos and Atreyu-and then explored the metalcore noise of acts like Escape the Fate, Bullet for My Valentine and Avenged Sevenfold. Altogether, these artists opened the floodgates and laid the foundation for his developing obsession with heavy metal, care of genre icons Pantera, Metallica and the like.
Fast-forward a couple of years later when Sullivan King discovered the sounds of EDM after countless hours spent on hardcore gaming, where artists like Skrillex, Avicii, Rusko and Wolfgang Gartner ruled the sound waves across global online gaming communities. Keaton's newfound love for EDM begot a cultural crossroads where bass music and metal live in a harmonious yet hellish balance. After exploring and perfecting his trademark sound at the revered Icon Collective Music Production School in Los Angeles, he set off to launch his solo artist career. And thus, Sullivan King was born. By the end of his debut year, Sullivan King accumulated over 2.4 million plays worldwide, an impressive figure for a new artist by any measure.
On the live front, Sullivan King truly comes to life as he clashes analog traditions with digital attitude via a proper one-man show. His live setup-composed of Pioneer CDJ decks, a microphone, a laptop running Ableton, his faithful Schecter guitar and a Guitar Wing from Livid Instruments, which he uses to manipulate and trigger pre?-recorded loops and sounds-allows him to adapt the best of both worlds into his shows and create unique performances every single time via impromptu guitar solos and varying track selections on the DJ end.
Sullivan King is today at the helm of a burgeoning musical movement. As one of the few artists to successfully marry heavy metal and electronic music, he's birthed a new creative space all its own. "If DJs are today's rock stars, then Sullivan King is forging his own rock galaxy," agrees LA Weekly (2/19/16).
"I'm taking an idea and creating something I've always wanted to hear in electronic music that wasn't always there: the live element," says Sullivan King. "I wanted to hear people putting guitars and drums and screams and vocals behind electronic music." For him, this sound is no gimmick; it's his mission. "I started this project to make music I wanted to listen to and to fill the gap missing in live electronic music. I'm leading the sound and pushing it forward, because I believe there's something to develop here."
LEVEL UP -
LEVEL UP aka Sonya Broner feels most at home behind the decks. Originally a battle DJ studying under the legendary Rob Swift, LEVEL UP dove into music production after discovering dubstep. Continuously crafting her sound is what makes her feel the happiest and is her truest form of self expression. While at the beginning of her journey, she has already gone on to release music on Deadbeats, GRVDNCR, and Buygore, with much more in the pipeline.
A theatre actress in her youth, her storytelling ability is evident through her music: unfathomably heavy wubs and wobbles, and tricky doubles leave the audience energized and ready for more. She has since gone on a national tour with Subtronics, and graced the stages of Lost Lands, Electric Forest, High Caliber, and more.
2020 has been a watershed year for LEVEL UP performing at over 30 drive-in events alongside Subtronics, Boogie T, HE$H and other artists, while the touring industry reinvents itself during the time of Covid. Look for even more to come from LEVEL UP in 2021 and beyond.
BENDA-
Hailing from Miami, Florida, Niv Ben-David is one of the younger electronic music acts currently up-and-coming within the bass music soundscape. Operating under the moniker Benda, this 22-year-old Israeli DJ and producer is on the rise. Mentored under the tutelage of the world-renowned DJ/producer Borgore, Ben-David is without-a-doubt a name to keep on your radar throughout the upcoming festival circuit. Now based in Los Angeles, California, Ben-David is getting ready to drop the needle on his arsenal of signature, wall-crumbling sound design.
VASTIVE-
18+ event